14 Oct (Fri) at Copthorne King's Hotel, Singapore
NATAS and Jeju Tourism Association partners up in a bid to drive more travellers both ways.
NATAS and Jeju Tourism Association are 'hwaiting' for travellers' love
Source: https://www.travelweekly-asia.com/Travel-News/Travel-Agent-News/NATAS-signs-MoU-with-Jeju-Tourism-Association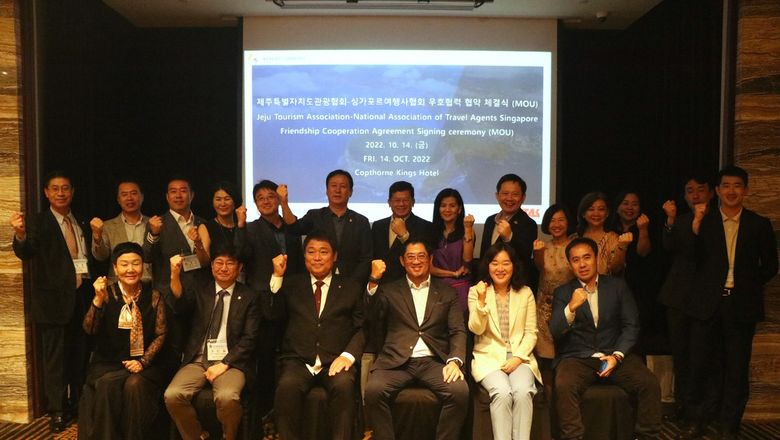 More Asian countries are going full speed ahead with its tourism recovery after dropping more Covid-19 restrictions. While destinations such as Singapore and Jeju have always enjoyed immense admiration from travellers for their scenery and myriad of activities, they are not resting on their laurels.
On Friday, 14 October, delegates from the Jeju Tourism Association (JTA) descended into Singapore to sign a memorandum of understanding with the National Association of Travel Agents Singapore (NATAS) in a bid to accelerate the tourism exchange and the marketing activation between the two organisations, and in turn, drive more tourists to both Jeju and Singapore.
When JTA's president Boo Dong Seok and NATAS's president Steven Ler inked their signatures to the MoU, it marked the start of the collaborative enhancement and cooperation between NATAS and JTA.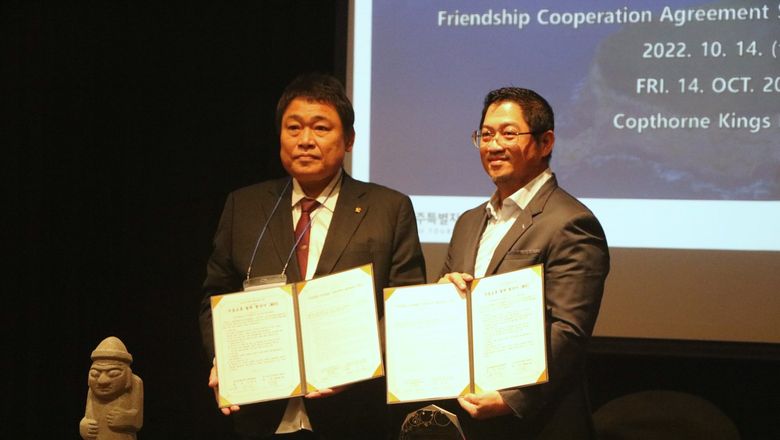 From left: JTA's Boo Dong Seok and NATAS's Steven Ler Photo Credit: Cheryl Teo
"With today's MOU signing, we look forward to working closely with JTA to promote Jeju as a travel destination for Singaporeans. Fostering trust, friendship and close collaboration between NATAS and JTA, I'm excited for a successful partnership," Ler concluded.
Visiting Singapore and Jeju has also been made more convenient, with both destinations just a hop and a skip away via Scoot that operates five direct six-hour flights every week, on Monday, Wednesday, Friday, Saturday and Sunday.
Read full article https://www.travelweekly-asia.com/Travel-News/Travel-Agent-News/NATAS-signs-MoU-with-Jeju-Tourism-Association